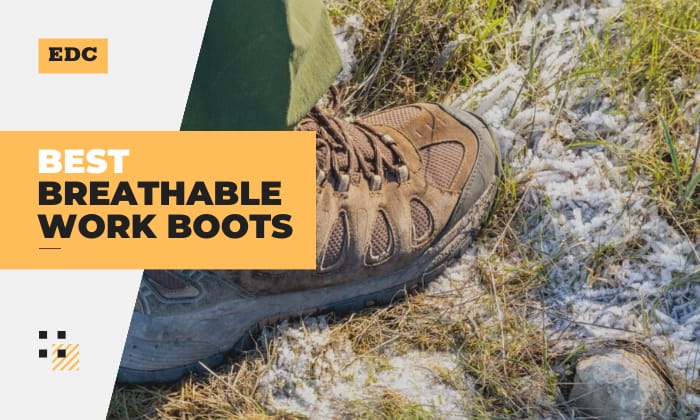 Many of us have jobs that require us to work outdoors, particularly those employed in industries like construction, agriculture, or oil and gas.
Unfortunately, numerous studies show that prolonged exposure to heat can lead to cramps, rashes, edema, exhaustion, heat stroke, and many other conditions. To avoid this, be sure to wear appropriate clothing and the best breathable work boots.
However, it's hard to tell whether boots are breathable just by looking at them. Here are the three factors that can help you choose the best pairs:
Uppers: Your boots' uppers protect your feet against the elements, debris, and other hazards. Leather and nylon—the most popular upper materials—are comfortable, allowing air to flow inside the footwear.
However, the former is bulkier and sometimes heavy, while the latter is lighter and more breathable but not heavy-duty. Nowadays, manufacturers combine both of these materials to create sturdy boots.
Lining: Most socks can draw away sweat, but wearing boots with moisture-wicking or breathable linings can improve the ventilation.
Besides that, some models have an antimicrobial treatment to prevent foot odors. Either way, these linings can be made of GORE-TEX, synthetics, or recycled materials. Despite the additional layer of fabric, you'd be surprised that they do not make the footwear feel toasty.
Size: Feet sweat in boots that fit too snugly, as the air cannot circulate and the constant rubbing of the skin against the interior lining generates heat. Worse, you can develop athlete's foot, a fungal infection that causes a burning session.
To choose the correct fit, go shoe-shopping in the afternoon when your feet are in their "largest" form and wear thick socks. Are you in between sizes? Consider sizing up.
Note that these three componentsare just the basics. We have more to discuss in the buying guide below. I'm sure that most of you are excited to learn more about the brands that make the best footwear for summer, so let's get into it!
Top 1
ORISTACO 799 Steel Toe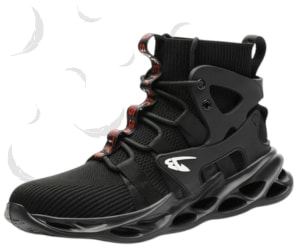 Jump to Review
Top 2
KEEN Utility Lansing Steel Toe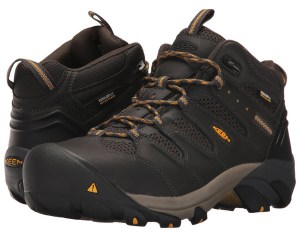 Jump to Review
Top 3
Reebok RB8678 Rapid Response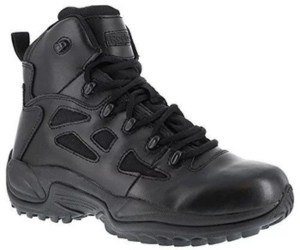 Jump to Review
Top 6 Breathable Work Boots
1. ORISTACO 799 Steel Toe Boot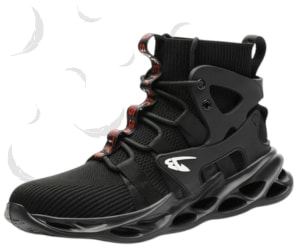 Specs
Upper: Fabric
Outsole: Slip-resistant rubber
Insole: Memory Foam
Toe protection: Steel toes
Were it not for the "Safety Toe Shoes" printed on the front of the boots, no one would believe that these cool-looking sneakers can safeguard the user's feet against numerous hazards.
I'm impressed that the manufacturer incorporated safety features so seamlessly into the design. Despite that, the footwear weighs less than two pounds.
Below the uppers are hardwearing steel toe caps that protect my feet against falling objects. The midsoles are puncture-resistant, thanks to non-metallic materials that act like underfoot shields against sharp debris.
Apart from that, they can absorb impact, which effectively reduces foot fatigue. These shoes are indeed perfect for laborers who are always on their feet.
Unlike bulky traditional leather work boots, these shoes have breathable and flexible fabric uppers akin to modern-day athletic shoes. No matter how hot the weather is, they keep my tootsies from getting hot and sweaty. Plus, I don't get blisters because the collars are soft. Not to mention, the pair fits true to size.
The manufacturer recommends these boots for workers in construction, landscaping, and ranching industries. They're most appropriate for those who work indoors or under dry conditions, since the shoes are not waterproof.
Other than that, I think it's a bit weird to have the word "fashion" printed on the back of the boots. I normally wear long pants so that no one could see the letters.
What We Like
Cool-looking landscaping, ranching, or construction boots
Protect feet against falling objects with steel toe caps
The midsoles are puncture-resistant.
Absorb impact and reduce foot fatigue
Breathable and flexible fabric uppers with soft collars
Lightweight and true to size
What We Don't Like
Lack waterproofing
It's a bit weird to have the word "fashion" printed on the back.
---
2. KEEN Utility Lansing Steel Toe Work Boot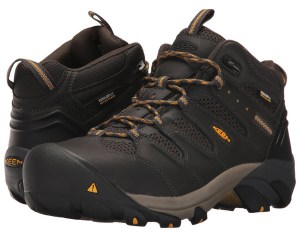 Specs
Height: Up to the ankles
Upper: Leather
Lining: KEEN.DRY breathable, waterproof membrane
Outsole: Oil- and slip-resistant rubber outsoles
Insole: Metatomical EVA
Toe protection: Steel toes
Lansing is an excellent example of ventilated work boots. It combines leather and mesh to achieve optimal breathability without compromising protection and waterproofing.
This model looks and feels like hiking boots, but the brand recommends them for construction, trucking, farming, landscaping, and even light manufacturing.
What sets KEEN apart from other brands is that it manufactures asymmetrical steel toe caps to ensure users like me get the perfect fit.
For added protection, the boots also include outsoles with chemical, oil, and slip resistance, as well as ASTM-rated electrical hazard protection. Those who work during nighttime or in the dark would love that they also feature reflective webbing.
Suitable for hot climates, these boots only go up as high as my ankles. As such, they can keep my legs cool. For waterproofing, the brand uses its KEEN.DRY technology. Essentially, it is a membrane that can block out moisture while also allowing the air to pass through.
Unfortunately, I noticed that the boots take time to dry once they get wet. The other minor issue I have is that they squeak a lot on different kinds of flooring, so I use them as outdoor work shoes.
What We Like
For construction, landscaping, trucking, and more
Asymmetrical steel toe caps for a perfect fit
Outsoles with chemical, oil, and slip resistance
ASTM-rated electrical hazard protection
Reflective webbing for night working and cool uppers
Block out moisture while also allowing air to pass through
What We Don't Like
Take time to dry once they get wet
Squeak a lot
---
3. Reebok RB8678 Rapid Response Safety Boot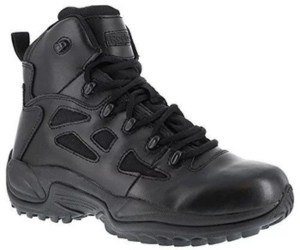 Specs
Height: 6"
Upper: Leather and ballistic nylon
Lining: Moisture-wicking nylon mesh
Outsole: Mountain Trail rubber bottom
Insole: Foot Force® F2A removable polyurethane cushion and EVA
Toe protection: None
Reebok has developed their Rapid Response tactical boots for law enforcement, military, and emergency response personnel. In fact, they constructed these boots with side zippers for quick and easy don and doffing.
The versatile design is apt for workers in warehouses or machine shops. As for me, they are the perfect shoes for on- and off-duty tasks.
So far, these soft-toe boots are the most comfortable ones I've ever had. The combination of leather and ballistic uppers makes them incredibly lightweight, breathable, and durable.
Plus, they come with moisture-wicking linings for sweaty feet. I didn't have to undergo a painful break-in period because they molded themselves to my feet from the get-go.
With the help of the Foot Force footbed, my feet, legs, and back do not hurt by the end of my shift. More than that, the brand's size charts are accurate. Reebok also offers half-sizes and wide options, so it was not difficult for me to find the right fit.
These work boots that breath have high-traction chemical-resistant soles that allow me to maintain my balance on greasy and slippery surfaces. On top of that, they also offer electrical hazard protection.
But there are two things that I don't like. First, they don't shield my feet against moisture very effectively. Second, the tongues are a bit bulky, so I have to use laces to keep them from sticking out.
What We Like
With side zippers for quick and easy don and doffing and electrical protection
Perfect shoes for on- and off-duty tasks
Incredibly lightweight, breathable, and durable with moisture-wicking linings
No break-in necessary
Comfortable Foot Force footbed with chemical-resistant, anti-slip soles
Not difficult to find the right fit
What We Don't Like
Don't shield feet against moisture effectively
Bulky tongues
---
4. SUADEX Steel Toe Work Boot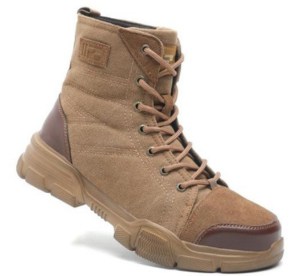 Specs
Height: 8 inches
Upper: Super-fiber leather and canvas
Outsole: Non-slip rubber
Midsole: Kevlar and EVA
Toe protection: Steel toe
Up next are these breathable summer work boots from Suadex. Composed of leather and fabric, the uppers provide me with ventilation to keep my tootsies sweat-free.
At the same time, I can pair them with winter socks, and they can warm my feet quite well on a snowy day. What's more, the materials allow me to skip the blister-causing break-in period. They can flex as I crawl or kneel.
Suitable for construction and manufacturing workers, these boots can protect every inch of my feet. For instance, the steel toe caps shield my feet from getting smashed by falling objects.
Plus, the Kevlar midsole can protect my feet from nails, debris, and other sharp objects. The outsoles are grippy, which enables me to walk on slippery flooring or uneven terrains safely.
Despite that, I'm amazed that these components do not make the boots heavy. It almost feels like I'm wearing sneakers every time I walk on them.
It's worth noting that the design is unisex. At any rate, both men and women say that these boots fit them well, even those with wide feet.
My problem is that the insoles feel thin and flat, so I swapped them with my favorite brand. Other than that, I think they are excellent.
What We Like
Breathable summer work boots
Keep feet warm on snowy days
Flexible and require no breaking in
Suitable for construction and manufacturing work with steel toe caps
Puncture-resistant Kevlar midsole and grippy outsoles
Lightweight and fit both men and women, even those with wide feet
What We Don't Like
The insoles feel thin and flat.
---
5. SYLPHID Steel Toe Work Boot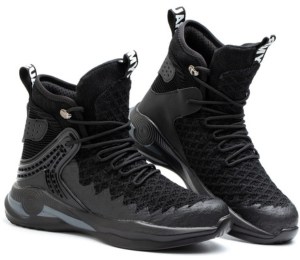 Specs
Height: Ankle-height
Upper: Breathable mesh
Outsole: Slip-resistant PU
Insole: Kevlar
Toe protection: Steel toes
Although most of the brands I reviewed make affordable footwear, SYLPHID is probably the one that comes with the lowest price tag. But don't underestimate these athletic work boots, as they are packed with safety features.
Designed for workers in the electrical power, construction, and manufacturing industries, these boots are fitted with robust steel toe caps and puncture-resistant midsoles.
Not to mention, their grippy outsoles keep me from losing my footing when I walk on wet surfaces and rugged terrains. Despite all that, each shoe weighs only 1.5 lbs. Sometimes, I forget that I'm wearing safety toe boots with them.
Sporting a modern style, these work shoes have uppers constructed from breathable and stretchable fabrics. I can work on the hottest days of the summer without drenching my feet in sweat.
Moreover, they are comfy straight out of the box. Given that I'm always walking and standing all day, I'm amazed that they minimize foot fatigue by absorbing the impact in each step.
Considering the construction and materials, however, these are not exactly the most durable work boots. Of course, that does not mean that they have no use.
I think they are suitable for those who work short-term projects or indoors. The reason is they are not impervious to water. I wear them strictly when it's not raining.
What We Like
An affordable price tag
For construction, electrical, and manufacturing work
Robust steel toe caps and puncture-resistant midsoles
Good grip on rugged and wet surfaces
Each shoe weighs only 1.5 lbs.
Breathable uppers; comfortable right out of the box and impact-absorbent
---
6. ROCKROOSTER AK232Z-4 Steel Toe Work Boot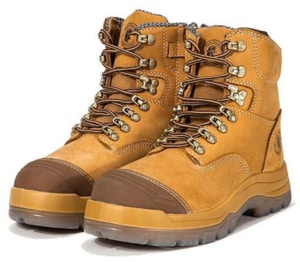 Specs
Height: 7 inches
Upper: Full-grain tumbled leather
Lining: CoolMAX
Outsole: Slip-resistant TPU
Insole: PORON Xrd Support
Toe protection: Steel toes
What I love about these ROCKROOSTER boots is that I can wear them as the season changes throughout the year. The CoolMAX fabric lining can cool my feet during summer and warm them during the winter. Besides that, it wicks away the sweat effectively.
These boots are taller than many of the other shoes I reviewed. However, the advantage of this design is that it provides ankle support, given that the uppers are made of full-grain leather. They work in conjunction with the slip-resistant outsoles. That's why I don't slip and fall when I'm walking on wet or uneven surfaces.
In high-risk areas, the steel toe caps can keep my feet safe against falling objects or sharp edges. I think the combination of these protective features makes them apt for carpenters, welders, and warehouse workers.
The memory foam footbeds also received praise from other users. Well, I'm here to confirm that they are comfortable and supportive. Because the insoles function to reduce the impact on my feet, I don't hurt my back and legs.
The only negative is that these boots are unsuitable for flat feet. Users with this foot type should look elsewhere or purchase new inserts to ensure comfort.
What We Like
CoolMAX fabric lining wicks away the sweat effectively
Keeps warm during winter
Provides ankle support with full-grain leather uppers
Keep feet safe against falling objects or sharp edges and enhance traction
Apt for carpenters, welders, and warehouse workers
Supportive memory foam footbeds
Factors to Consider When Buying Breathable Work Boots for Summer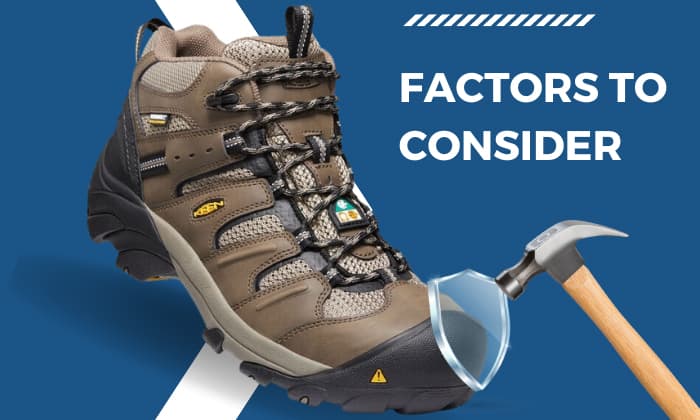 1. Boot Height
Regardless of the material, work boots can feel warm during summer, especially when you are wearing pants over them.
Although tall shafts are designed to protect your shins, they also prevent the air from flowing in and out. Under high heat conditions, ankle-length boots are your best bet.
2. Job-specific Needs
Leather work boots are heavier than ones made of synthetic materials, but they offer better protection, especially in construction and demolition jobs.
For one, they are thicker and more impact-resistant than nylon fabrics. For another, they allow you to walk safely on gravel or wet flooring as they provide ankle support.
By contrast, sneaker-like steel toe boots are more breathable. Their fabric uppers are more flexible, making them excellent for workers who are always on their feet. However, fabric uppers are unsafe to use in situations that expose you to sharp objects or abrasion because they can tear up easily.
3. Safety
Wearing well-ventilated, lightweight safety-toe boots does not mean you will trade off protection. Whether you pick shoes with composite toe, steel toes, or alloy ones, ensure that they meet your employer's requirements.
Of course, there are other protective features that you need to consider based on the risks identified by your safety officer. If you are working with electrical equipment or walking on slippery surfaces, then you would need boots with ASTM (electrical hazard) safety certification and high-traction outsoles.
4. Soles
Working all day can put a lot of stress on your feet. Besides carrying your weight, feet are at the receiving end of the impact when you walk, which, in turn, hurts your lower back and legs.
The good news is you can relieve the strain on your muscles and joints by wearing safety toe work boots with shock-absorbing midsoles and insoles.
Another feature to check is the shank, found between the insoles and outsoles. This strip is typically made of steel, plastic, fiberglass, or Kevlar materials.
In addition to maintaining the shape of the boot, the shank can distribute your body weight more evenly and prevent pain around the knees, calves, and arches. Moreover, it can serve as underfoot protection against punctures, particularly around your arch where it is located.
5. Durability
How long your hot weather work boots can last will hinge on the quality of their materials, construction method, frequency of use, and how you care for them.
By all measures, leather is far more durable than any other upper material. If you wash and condition your leather boots regularly, you can expect them to last for years or decades. This is especially true of Goodyear welted shoes, although there are direct-attached and cemented work boots that can last quite long.
Although athletic-style work boots are made of synthetics or nylon, you can also prolong their lifespan by carefully hand-washing them. You can also spray them with a waterproofing agent to protect them against damage caused by moisture.
6. Waterproof
Moisture trapped in an enclosed space can promote the growth of odor-causing bacteria. Whether you're commuting on a rainy day or working outdoors, your feet can get wet, but you can keep them dry by opting for boots with a robust water-repelling system.
Both nylon and leather, along with the boot's lining, can resist water to a degree.
It is worth noting that the waterproof treatment can wear off over time. If you notice that, buy a waterproofing agent and apply it now and then per the manufacturer's instructions.
Conclusion
As scientists have warned, global temperatures keep rising, with the hottest day recorded only last July 6, 2023. Working outside can make us feel tired a lot faster as our bodies try to keep our internal temperature cool.
Besides wearing the best breathable work boots and clothing, remember to drink plenty of water and stay in the shade whenever possible.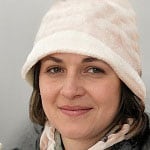 Veronica is our content editor. She is a talent in delivery. Her main work is editing and writing articles that are both informative and simple to follow. She is in charge of synthesizing our understanding of what personal protection equipment (PPE) is needed in each job, how to best apply it, and how to visualize that equipment.